There Is A Festival In Nepal Every Year That Thanks Dogs For Being Our Friends
There is an entire day during a festival in Nepal dedicated solely to thanking dogs for their loyalty and friendship. The time itself is called "Diwali" celebrated by Hindus, and is a 'festival of lights' celebrated by millions every year in the fall, in india, nepal and elsewhere.
Specific to Nepal, there is a day during this celebration dedicated to all the Dogs, called Kukur Tihar, specifically to thank our 4-legged companions for always being our loyal friends.
Tihar is a five day Hindu festival, but the second day is reserved for our loyal companions.
It is called Kukur Tihar or Kukur Puja (worship of the dogs).
People offer garlands, tika (a mark worn on the forehead), and delicious food to dogs, and acknowledge the cherished relationship between humans and dogs.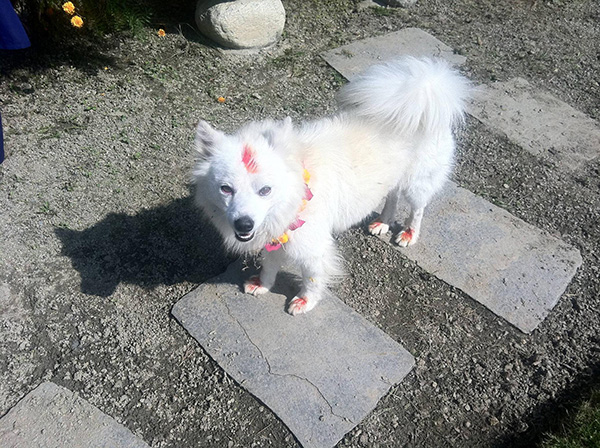 The garlands are a sign of respect for the animals.
Because dogs are the best people.
The images honoring these animals are truly breathtaking.
The thought of this beautiful festival is lightening the heavy hearts of dog lovers everywhere, amid horrendous news bites from another kind of festival in Yulin, China, recently.
With red powder, the dogs are marked on their foreheads as a sign of sacredness.
I really love this.
Twins Born In Different Years, But Only 15 Minutes Apart, In Rare Birth
In a heartwarming start to the New Year, a pair of California twins were born only 15 minutes apart — in separate years, with one born minutes before midnight on New Year's Eve in 2021 and the other born at precisely midnight on New Year's Day in 2022.
Their Mother, Fatima Madrigal, gave birth to her son Alfredo Antonio Trujillo at 11:45 p.m. on Saturday night, according to the Natividad Medical Center, which announced the birth on Sunday.
Alfredo's sister, Aylin Yolanda Trujillo, was born precisely at midnight in a new year with a different birthdate, just 15 minutes after Alfredo's brother.
Dr. Ana Abril Arias, a family physician at the hospital, described the deliveries as being "uniquely timed" and "one of the most memorable deliveries of my career."
"It was an absolute pleasure to help these little ones arrive here safely in 2021 and 2022," Arias added in the release. "What an amazing way to start the New Year!"
After spending time in the hospital with their mother and father, Robert Trujillo, the two newborns will travel home to meet their three older siblings – two girls and a boy.
Game Changer: The FDA Approved Eye Drops That Replace Reading Glasses
The Food and Drug Administration authorized eye drops that may possibly replace reading glasses for millions of people in October, and they entered the market this week.
"It's definitely a life changer," trial participant Toni Wright told CBS. "I would not need my readers as much, especially on the computer, where I would always need to have them on."
The drops, known as pilocarpine, and sold by pharma outlet Allergan under the name "Vuity," might help the 128 million people in the United States who are nearsighted. One drop in each eye, according to the business, may enhance closeup eyesight for six to ten hours, according to CBS News.
The drops function by utilizing the eye's natural capacity to shrink its pupil.
"Reducing the pupil size expands the depth of field or the depth of focus, and that allows you to focus at different ranges naturally," George Waring, lead investigator of a clinical trial, told CBS.
At $80 for a 30-day supply, the drops aren't cheap, but they're also not excessively pricey, considering the benefit..
However, it is not a cure-all, and headaches and burning eyes are two of the most common adverse effects reported. The manufacturer also advises against using the drops at night while driving or when operating machinery.
Middle-aged adults are the ones who benefit the most from the drops. According to CBS, those over the age of 65 will be less affected by them.
Millions of people find wearing reading glasses inconvenient, therefore getting rid of them is surely appealing.
Along with revolutionary technologies like Lasik, humans are continually moving towards a future where problems with eyesight are a thing of the past. Nice.