'No More Survivors': Volcano Buries Entire Island in Ash After Sudden Eruption
"No signs of life have been seen at any point."
(TMU) — Police have declared there are no more survivors after a sudden eruption on New Zealand's White Island left at least five people dead and more than 30 wounded Monday.
The death toll is expected to rise but the area remains too dangerous for emergency workers to reach the island. It is not yet clear when it will be safe to do so.
"No signs of life have been seen at any point," police have said. Both New Zealanders and foreign tourists are among the dead, missing, and wounded.
The privately owned island, also known as Whakaari, it's Māori name, sits about 30 miles off the coast New Zealand's North Island in the Bay of Plenty and sees around 10,000 visitors per year. At the time of the eruption, around 50 people were on the uninhabited island—all of them tourists or tour guides.
The majority of those visiting the island were thought to be passengers on the Royal Caribbean cruise ship, Ovation of the Seas.
In a statement given to Newsweek, Royal Caribbean spokesperson Melissa Charbonneau said:
"We are devastated by today's events and our hearts go out to all those affected by this tragedy.

We are working together with local authorities, and we are providing all the help and care we can to our guests and their families, including offering medical resources and counseling.

We are also sending staff members from both our ship and our Sydney and Auckland offices to assist family members however possible. Ovation of the Seas will remain in port as long as needed to assist with the situation."
Whakaari is the 800 acre tip of the submarine volcano that has been in almost continuous stage of releasing gas, making it the country's most active volcano.
Around 2 pm Monday, the volcano began shooting clouds of ash and debris into the air, which eventually blanketed the entire island, but not before some tourists were able to escape.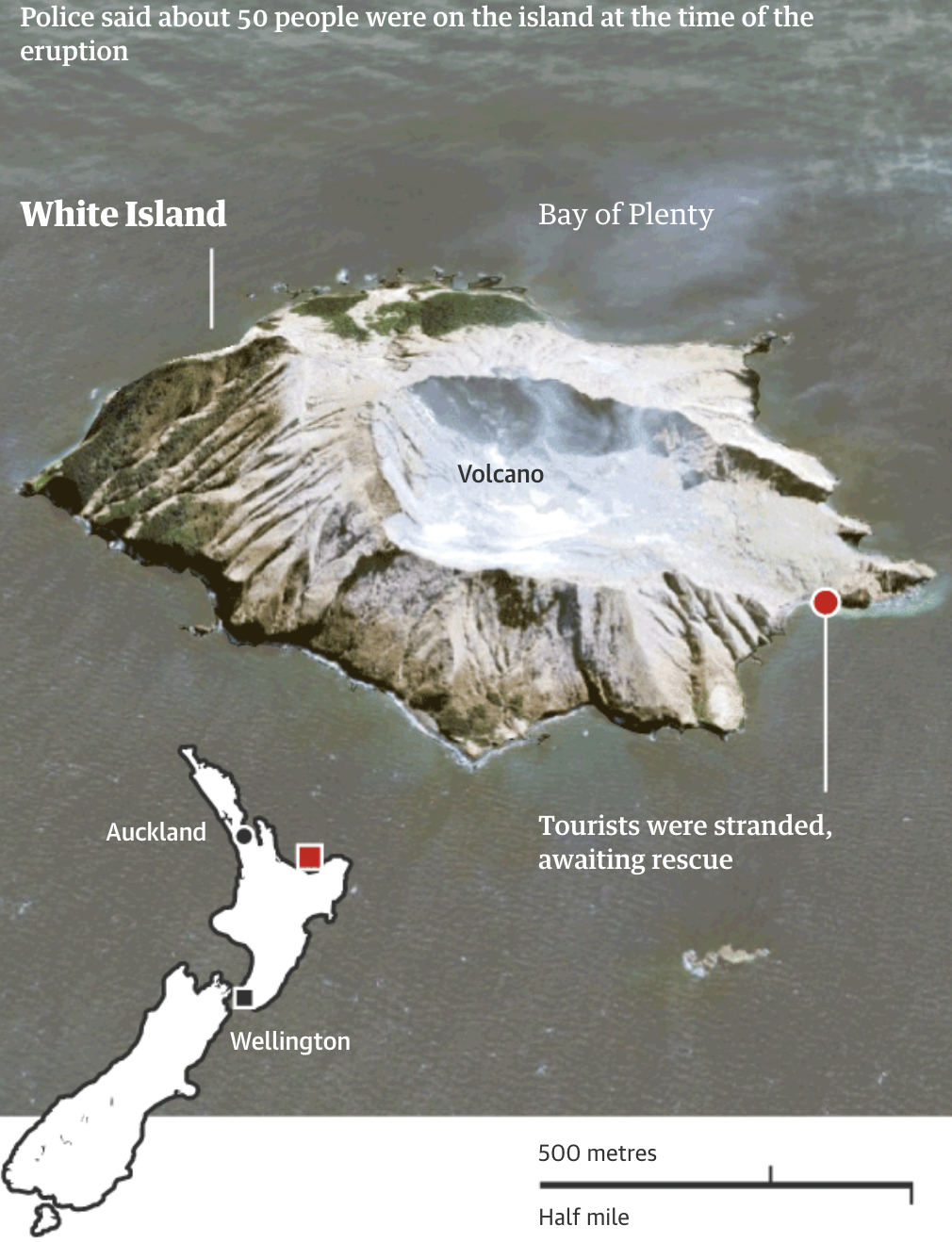 According to video posted to Twitter, one family was on the volcano 20 minutes prior to the eruption and was waiting for a rescue boat at the time. According to the post, the boat was able to rescue some people and tend to those with injuries.
American tourist Michael Schade was aboard one of the tour boats tending to the injured. Schade said survivors were burned "to different levels of severity."
"We were all busy the entire time, just trying to stay out of the way of people who knew what they were doing and also just to help out wherever we could."
— Michael Schade (@sch) December 9, 2019
Schade captured footage and images as the volcano erupted.
According to the Independent, tour operators were taking people off the island before it was declared unsafe to do so.
In footage taken by the volcano's crater camera, people seen were in the area only minutes before the eruption began.
In a statement, New Zealand police explained:
"The Police Eagle helicopter, rescue helicopter, and NZDF aircraft have undertaken a number of aerial reconnaissance flights over the island since the eruption.

No signs of life have been seen at any point. Police believe that anyone who could have been taken from the island alive was rescued at the time of the evacuation.

Based on the information we have, we do not believe there are any survivors on the island.

[We are] working urgently to confirm the exact number of those who have died, further to the five confirmed deceased already."
A damaged helicopter belonging to Volcanic Air is visible in footage from the island. The helicopter's pilot and four passengers were unharmed during the eruption and fled the island by boat. A company spokesperson said:
"Volcanic Air has confirmed it had a helicopter on Whakaari/White Island at the time it erupted this afternoon. Five people had flown to the island in the helicopter, but all are accounted for and have arrived back in Whakatane by boat."
Prime Minister Jacinda Ardern​ said at a press conference Tuesday morning:
"It is now clear there were two groups on the island. Those who were able to be evacuated, and those who were close to the eruption.

We can confirm that among those currently listed as missing or injured are New Zealanders who were part of the tour operation, and tourists from Australia, the United States, the UK, China and Malaysia. That is to the best of our knowledge."
While Monday's eruption is the first deadly eruption since 1914, experts contend the island is and has been too dangerous for tourists. Ray Cas, professor emeritus at Monash University, said:
"White Island has been a disaster waiting to happen for many years.

Having visited it twice, I have always felt that it was too dangerous to allow the daily tour groups that visit the uninhabited island volcano by boat and helicopter."
Dr. Ken Glairdhill, of GNS Science, said that the eruption was not "particularly big" but that the volcano had been showing "increased activity for the last few weeks." As a result of that increase in activity, the alert level for Whakaari was raised to four on a scale of zero to five—with level five indicating a major eruption. According to GeoNet, a "moderate volcanic eruption" was possible.
Former Prime Minister Helen Clark has tweeted her condolences:
https://twitter.com/HelenClarkNZ/status/1203916406992982018
By Emma Fiala | Creative Commons | TheMindUnleashed.com
Chris Cuomo "indefinitely" gone from CNN after his deep role in brother's sex scandal is revealed
CNN anchor Chris Cuomo was suspended indefinitely by CNN on Tuesday after it was revealed by the New York Attorney General's Office that the star anchor, the most popular on the news network, was deeply involved in assisting his scandal-embroiled brother, former New York Gov. Andrew Cuomo, amid a flurry of sexual harassment allegations that ultimately led to him resigning.
While Chris Cuomo had apologized in the past for advising his brother's senior aides – effectively shattering the wall typically standing between policymakers and journalists – the thousands of pages released by Attorney General Letitia James show that the anchor played a deeply intimate role in damage control efforts stemming from the accusations.
The network and its top leadership, including president Jeff Zucker, had backed their star anchor to the hilt in recent months despite accumulating info showing Cuomo's breach of basic journalistic standards. The anchor also had apologized for advising the governor while simultaneously downplaying or omitting the extent of his direct involvement in the scandal.
Late Tuesday, the network released a statement acknowledging that "the documents, which we were not privy to before their public release, raise serious questions."
"When Chris admitted to us that he had offered advice to his brother's staff, he broke our rules and we acknowledged that publicly," the statement explained. "However, these documents point to a greater level of involvement in his brother's efforts than we previously knew. As a result, we have suspended Chris indefinitely, pending further evaluation."
Text messages show that Chris Cuomo clamored to play an increasingly direct role in the scandal, ranging from offers to draft statements for his brother to demands that he play a commanding role in strategic matters. Cuomo also looked into potential angles for news reports and researched the women who accused his brother of sexual misconduct.
"Please let me help with the prep," Cuomo wrote at to his brother's top aides as evidence damning the governor mounted.
The move to indefinitely suspend the argumentative and charismatic anchor came as a shock to some anchors, who were aware that he was dear to CNN management. CNN president Zucker also declined to discipline him as reports poured in about his misconduct, reports New York Times.
Chris Cuomo had long admitted that for him, the matter was about "family first, job second."
"I can be objective about just about any topic, but not about my family," he said on May 20. He also played down his fervent role in the scandal, claiming that he had been haplessly "looped into calls" with the governor's inner circle, which he claims was a "mistake" that spilled over onto his work life and placed his CNN colleagues in a "bad spot."
Jeffrey Epstein's pilot testifies: Clinton, Trump, Prince Andrew among "Lolita Express" passengers
Jeffrey Epstein's longtime pilot took the stand on Tuesday, the second day of Ghislaine Maxwell's trial, and detailed the names of famous passengers who rode in the private jet of the disgraced financier who has been accused of a range of crimes, including sex trafficking minors.
Testifying at the trial of Maxwell, who was Epstein's girlfriend and alleged co-conspirator, pilot Larry Visoski explained how he met a number of notable and powerful people. The names included Prince Andrew, Donald Trump (before he was president), former President Bill Clinton, Chris Tucker, Kevin Spacey, George Mitchell, violinist Itzhak Perlman, and astronaut John Glenn.
The pilot explained that he met the celebrities over the course of decades while flying Epstein's Boeing 727 Gulfstream jet — often referred to in media as the "Lolita Express" — as well as helicopters.
"I certainly remember President Trump, but not many people associated with him," the pilot said during cross-examination by Maxwell's defense team, adding that the future head of state flew on the plane before he became president in 2016.
Clinton was mentioned as Visoski testified about a meeting with a female singer in the cockpit of the jet before flying off from an airport in Palm Beach, Florida. Visoski claims that he remembered the singer, identified as Jane Doe in the courtroom, by her "piercing blue eyes" and that she didn't appear to be young at the time.
"You'll forgive the question, Mr. Visoski, but I think you'll remember that at the time you saw her, you also remembered she had large breasts. Isn't that right?" asked Assistant U.S. Attorney Maureen Comey.
"Uh. She was a mature woman," Visoski answered in response.
According to prosecutors, Jane was 14 years old when she was essentially "recruited" by Maxwell in 1994, not long before Visoski met her in the cockpit.
"I can't visualize her sitting in the passenger compartment like I would, say, President Clinton. It was so long ago," the pilot said.
"Jane Doe" also testified on Tuesday and explained how she was eating ice cream at a youth summer camp when Maxwell and Epstein approached her in a friendly manner.
Before long, however, Maxwell allegedly began training her on how to "massage" Epstein.
Eventually, she explained, she took part in orgies involving both Maxwell and Esptein at the late financier's massive homes in Palm Beach, New York City, and New Mexico.
Prosecutors have depicted Maxwell as the mastermind of a sadistic sex trafficking gang that preyed on young women and underage girls. The U.S. government has alleged that over the span of at least 10 years, from 1994 to 2004, she "assisted, facilitated, and contributed to Jeffrey Epstein's abuse of minor girls by, among other things, helping Epstein to recruit, groom, and ultimately abuse" the girls and young women.
The British media heiress has pleaded not guilty to the six felony counts.
Epstein, 66, died of apparent suicide during his incarceration at a federal prison in Manhattan while facing a likely prison sentence of up to 45 years on charges of pedophilia and sex trafficking.
According to Visoski, from 1991 until 2019, he regularly flew Epstein to his private island in the Caribbean, Little St. James – an island popularly referred to as "Pedophile Island."
"Every week to every 10 days if we weren't elsewhere in the world, but, you know, it was a regular destination," Visoski said.
Visoski also noted that he remembered Maxwell, a one-time girlfriend of Epstein, as an employee of the late sex criminal – albeit one whose specific role was unclear.
Ghislaine Maxwell trial begins as Epstein's shadow looms large
On Monday, opening arguments began in the widely anticipated federal trial of accused sex trafficker Ghislaine Maxwell, the notorious British socialite who allegedly helped disgraced financier Jeffrey Epstein commit a dizzying array of abusive and exploitative acts toward multiple women and girls, including one as young as 14.
Epstein, 66, died of apparent suicide during his incarceration at a federal prison in New York City while facing a potential prison sentence of up to 45 years on charges of pedophilia and sex trafficking.
The Maxwell trial could be a last-ditch opportunity for the government to secure a conviction for the crimes of Epstein, in effect making this the trial that he prevented from ever occurring.
"The shadow of Epstein is going to loom large here," former federal judge Moira Penza told the New York Times. "The case is obviously going to be about Maxwell, but he's going to be right at the center of it as well."
Early Monday, jury selection drew to a close.
The trial won't be broadcast on television or online, while attendees will be prevented from broadcasting or photographing the trial, reports NPR.
Maxwell, 59, faces charges of grooming multiple minors to engage in illegal sex acts with Epstein, her ex-boyfriend, and sex-trafficking a minor. The indictment accuses the British media heiress of conspiracy, including recruiting one of her partner's victims to help recruit other girls to be paid to undergo abuse at the hands of Epstein.
On Monday, prosecutors depicted Maxwell, who circulated in wealthy and powerful circles in the U.K. and U.S., as the mastermind of a sadistic sex trafficking gang that preyed on teenage girls. U.S. Attorneys have alleged that over the span of at least 10 years, from 1994 to 2004, she "assisted, facilitated, and contributed to Jeffrey Epstein's abuse of minor girls by, among other things, helping Epstein to recruit, groom, and ultimately abuse" the girls and young women.
Maxwell has pleaded not guilty to the charges, while her multiple attempts to be released from the Metropolitan Detention Center in Brooklyn, New York, have all been shot down.
Prosecutor Laura Pomerantz said Monday that Maxwell was a key component in Epstein's "pyramid scheme of abuse" and criminal sex acts carried out under the color of respectability, reports BBC.
Pomerantz noted that one accuser befriended by the pair was promised bright opportunities in the future.
Prosecutors will call on witnesses including four alleged victims and experts on sexual abuse and those who can inform the jury about the credibility of the couple's victims, including those who may not have been aware that they suffered abuse at the time.
Experts say that the prosecution will have their work cut out for them and must refrain from making the trial center too much on Epstein's crimes rather than those of his alleged co-conspirator Maxwell.
Maxwell's defense will also have to convince the 12-person jury that she was an unwitting player in Epstein's game, likely by delving into the details of the deceased criminal's dealings at the top levels of philanthropy, academia, politics, and high finance.
On Monday, the defense protested Maxwell being held liable for Epstein's crimes and depicted her situation as being one where "memory, manipulation and money" play crucial roles.
However, federal attorneys have pushed back at the idea that she was a victim of Epstein, as opposed to a willing accomplice.
"The government's yearslong investigation has not developed any evidence that the defendant was victimized in any way by Jeffrey Epstein," read court papers that were recently filed by the government.
Prosecutors are expected to draw on Maxwell's so-called "black book," which meticulously recorded the friends and contacts of Epstein. The FBI gained possession of the book in 2019 when Epstein's former butler tried to sell it. The government is confident that the book contains "compelling evidence of her guilt," according to court filings.