How the Media Made It Look Like Pete Was Winning When He Wasn't
The corporate media has been anything but straightforward and honest.
(TMU Op-Ed) — Monday's democratic caucus in Iowa has been nothing short of disastrous for the Iowa Democratic Party, for the DNC, for some candidates, and even for corporate media. While the actual caucus process has been mired in confusion and controversy, the way the debacle has been communicated by the corporate media has been anything but straightforward and honest.
Outsiders looking in on the Iowa caucus process, some for the very first time, as well as first-time—or even seasoned—caucus goers in Iowa would benefit from understanding the process in order to interpret whatever it is the corporate media has been doing for the last few days.
You may remember that in 2016 the caucus results in Iowa were close but I'm willing to bet that no one paid as much attention to the numbers or the process as they have this time around. Hillary Clinton walked away with 700.47 (49.84%) state delegate equivalents (SDEs) while Bernie Sanders had 696.92 (49.59%). What many people probably failed to notice in 2016 is that these numbers don't include the actual number of people who voted—or the popular vote. In fact, this year is the first time that Iowa has recorded that information.
That's right—in what many call the most important state in the primary battle, raw vote counts were never released. The Iowa caucuses have historically relied on SDEs to determine the number of delegates that go to the Democratic National Convention. The obvious question is: what the heck is a state delegate equivalent? 
Few people even in Iowa can answer this question simply or accurately, which makes it fairly odd that these are the numbers we see plastered across corporate media here, here, and here.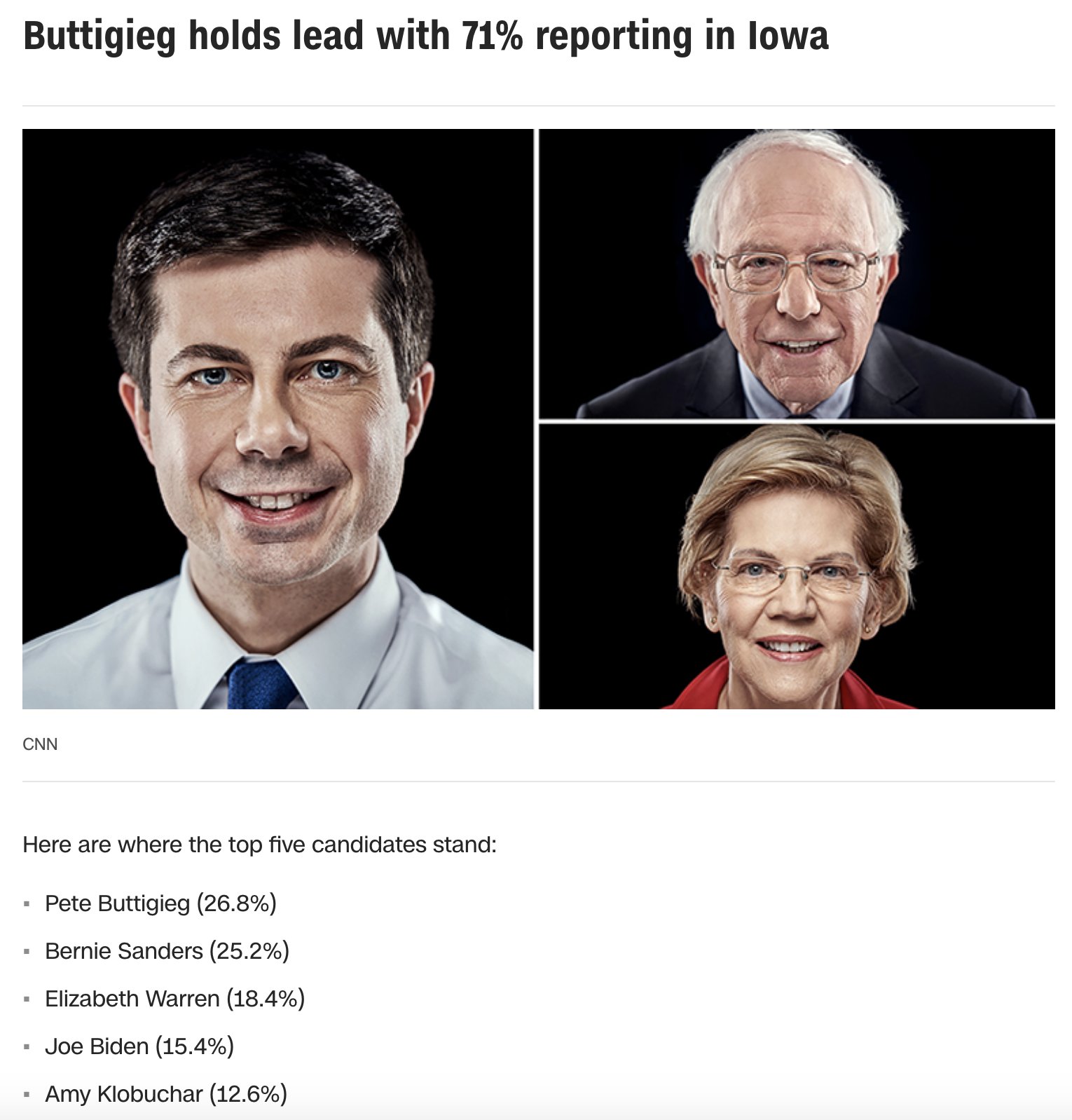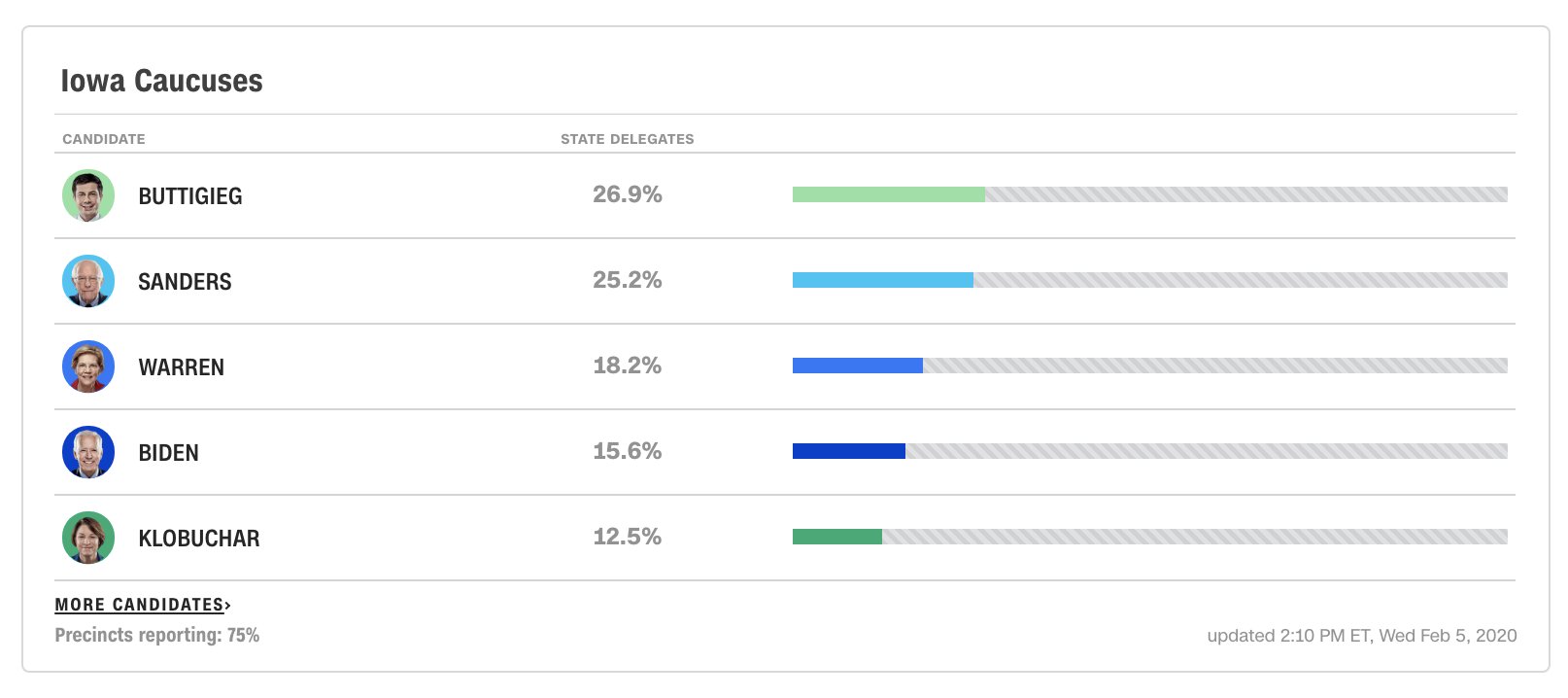 (Special shoutout to Business Insider for showing actual vote counts.)
As you may have noticed by now, like this guy did live on MSNBC, three sets of data came out of Iowa and one of them—the SDEs—makes less sense than the others.
And as many observing the caucuses have, you may have also noticed that one set of data consistently shows Buttigieg in the lead (as evidenced by the screen shots above) while the other numbers show Bernie Sanders in the lead.
Before the results came in, MSNBC's Steve Kornacki broke down this year's changes in Iowa in a helpful video during which he says, "These are going to be the most transparent Iowa caucuses you've ever seen." I appreciate Kornacki's positivity here.
However, Kornacki neglected to explain how state delegate equivalents are calculated—and I don't really blame him because even with all the fancy touch screens and custom clip art in the world it would still be confusing.
Steps one and two and their corresponding data points are simple enough. Popular vote and then a realigned vote if those who support the candidates with little show realign themselves with a more viable candidate. Vox explains step three in striking detail:
Each individual precinct caucus will elect a certain preset number of county convention delegates to go to one of the 99 county conventions in Iowa. Each county gets to determine the size of its convention. There will be 11,402 county delegates overall.

Each county also has a preset number of state delegates it will be able to send to the Iowa Democratic convention. And the number of state delegates a county gets depends on how many votes its attendees cast for the Democratic nominees in the most recent gubernatorial and presidential race, averaged. There will be 2,107 state delegates overall.

And all of that is entirely different from the national delegates we're accustomed to seeing in presidential primary results. These are the delegates Iowa will send to the Democratic National Convention. This year, it will send 41 pledged delegates (who are bound to support to specific candidates based on the caucus results).
To calculate SDEs, officials take the total county convention delegates and estimate how many state convention delegates that equals. Then they use the Iowa Democrats' master delegate apportionment list to find SDEs. Sometimes this involves rounding, which has understandably confused the majority of the nation.
https://twitter.com/LuluFriesdat/status/1225281500943392768
As Vox explained:
"It could all result in a muddled mess. If a candidate gets the most votes but not the most state delegate equivalents, he or she will surely try to claim victory, with good reason."
So why has corporate media been using the confusing SDE counts? And why have some outlets gone so far as to declare Pete Buttigieg the winner based on what is clearly incomplete and even inaccurate data? I'm looking at you, Slate.
It's really anyone's guess, although a heck of a lot of people appear to have the same guess and it may or may not have something to do with Buttigieg's uncomfortable connection to the app used to record all of this confusing data, the fact that he awkwardly claimed victory based on nothing, or even the hashtag #CIAPete.
Iowa, you have shocked the nation.

By all indications, we are going on to New Hampshire victorious. #IowaCaucuses

— Pete Buttigieg (@PeteButtigieg) February 4, 2020
And now, moments ago, Sanders has claimed victory—albeit with more data on his side than when Buttigieg did on Monday.
We won in Iowa because of the unprecedented grassroots effort of our campaign.

Thousands of volunteers knocked on hundreds of thousands of doors in the cold and snow.

I want to thank each and every volunteer who participated in that effort.

— Bernie Sanders (@BernieSanders) February 6, 2020
But instead of siding with Sanders like they did with Buttigieg, corporate media appears to be taking a different route.
Whether or not someone in the Iowa caucus process was acting nefariously is up for debate but it certainly calls the process into question and where we go from here. Even the DNC itself who is rife with controversy and corruption of its own isn't comfortable with the results.
Only hours ago, the leader of the Democratic National Committee Tom Perez called for an immediate recanvass of the caucuses on Twitter.
https://twitter.com/tomperez/status/1225468833458245632
But at this point who can honestly trust anything that happened in Iowa on Monday? While completely unprecedented, the only way to have faith in Iowa's results would be to have a do-over and do things a little more like the republicans. In case you were wondering, Iowa Republicans hold their caucuses much more like an ordinary, straightforward primary—one vote, no realignment, and no state delegate equivalents.
For a country bent on spreading democracy across the world and crying foul in foreign elections when our preferred candidates don't come out on top, we should probably figure out how to count.
If we've learned anything from this week's events it's that the little trust left in U.S. elections has been lost, we can't rely on corporate media, and the only useful next steps include either a complete overhaul of what is supposed to be a democratic election process or all out revolution.
But it seems the establishment's next step is to just say they both won, make no admission of wrongdoing, and probably just pretend this never happened.
https://twitter.com/chrisjollyhale/status/1225501664439873536
By Emma Fiala | Creative Commons | TheMindUnleashed.com
Dolphin Swims Through Louisiana Neighborhood in Aftermath of Hurricane Ida
A Louisiana family was shocked to find a dolphin swimming through their neighborhood in the aftermath of Hurricane Ida.
Amanda Huling and her family were assessing the damage to their neighborhood in Slidell, Louisiana, when they noticed the dolphin swimming through the inundated suburban landscape.
In video shot by Huling, the marine mammal's dorsal fin can be seen emerging from the water.
"The dolphin was still there as of last night but I am in contact with an organization who is going to be rescuing it within the next few days if it is still there," Huling told FOX 35.
Ida slammed into the coast of Louisiana this past weekend. The Category 4 hurricane ravaged the power grid of the region, plunging residents of New Orleans and upwards of 1 million homes and businesses in Louisiana and Mississippi into the dark for an indefinite period of time.
Officials have warned that the damage has been so extensive that it could take weeks to repair the power grid, reports Associated Press.
Also in Slidell, a 71-year-old man was attacked by an alligator over the weekend while he was in his flooded shed. The man went missing and is assumed dead, reports WDSU.
Internet users began growing weary last year about the steady stream of stories belonging to a "nature is healing" genre, as people stayed indoors and stories emerged about animals taking back their environs be it in the sea or in our suburbs.
However, these latest events are the surreal realities of a world in which extreme weather events are fast becoming the new normal – disrupting our lives in sometimes predictable, and occasionally shocking and surreal, ways.
Mom in LA Suburbs Fights Off Mountain Lion With Bare Hands, Rescues 5-Year-Old Son
A mother in Southern California is being hailed as a hero after rescuing her five-year-old son from an attacking mountain lion.
The little boy was playing outside his home in Calabasas, a city lying west of Los Angeles in the Santa Monica Mountains, when the large cat pounced on him.
The 65-pound (30 kg) mountain lion dragged the boy about 45 yards across the front lawn before the mother acted fast, running out and striking the creature with her bare hands and forcing it to free her son.
"The true hero of this story is his mom because she absolutely saved her son's life," California Department of Fish and Wildlife spokesman Captain Patrick Foy told Associated Press on Saturday.
"She ran out of the house and started punching and striking the mountain lion with her bare hands and got him off her son," Foy added.
The boy sustained significant injuries to his head, neck and upper torso, but is now in stable condition at a hospital in Los Angeles, according to authorities.
The mountain lion was later located and killed by an officer with the California Department of Fish and Wildlife, who found the big cat crouching in the bushes with its "ears back and hissing" at the officer shortly after he arrived at the property.
"Due to its behavior and proximity to the attack, the warden believed it was likely the attacking lion and to protect public safety shot and killed it on sight," the wildlife department noted in its statement.
The mountain lion attack is the first such attack on a human in Los Angeles County since 1995, according to Fish and Wildlife.
The Santa Monica Mountains is a biodiverse region teeming with wildlife such as large raptors, mountain lions, bears, coyote, deer, lizards, and snakes. However, their numbers have rapidly faded in recent years, causing local wildlife authorities to find new ways to manage the region's endemic species.
Video Shows Taliban Taking Joyride in Captured US Blackhawk Helicopter
The rapid fall of Kabul to the Taliban has resulted in a number of surreal sights – from footage of the Islamist group's fighters exercising at a presidential gym to clips of combatants having a great time on bumper cars at the local fun park.
However, a new video of Taliban members seemingly testing their skills in the cockpit of a commandeered UH-60 Black Hawk helicopter shows the chilling extent to which U.S. wares have fallen into the hands of a group it spent trillions of dollars, and exhaustive resources, to stamp out.
In the new video, shared on Twitter, the front-line utility helicopter can be seen taxiing on the ground at Kandahar Airport in southeastern Afghanistan, moving along the tarmac. It is unclear who exactly was sitting in the cockpit, and the Black Hawk cannot be seen taking off or flying.
It is unlikely that the Taliban have any combatants who are sufficiently trained to fly a UH-60 Black Hawk.
The helicopter, which carries a $6 million price tag, is just a small part of the massive haul that fell into the militant group's hands after the country's central government seemingly evaporated on Aug. 14 amid the withdrawal of U.S. and coalition troops.
Some 200,000 firearms, 20,000 Humvees and hundreds of aircraft financed by Washington for the now-defunct Afghan Army are believed to be in the possession of the Taliban.
The firearms include M24 sniper rifles, M18 assault weapons, anti-tank missiles, automatic grenade launchers, rocket-propelled grenades and mortars.
Taliban fighters in the elite Badri 313 Brigade have been seen in propaganda images showing off in uniforms and wielding weaponry meant for the special forces units of the Afghan Army.
The U.S. is known to have purchased 42,000 light tactical vehicles, 9,000 medium tactical vehicles and over 22,000 Humvees between 2003 and 2016.
The White House remains unclear on how much weaponry has fallen into Taliban hands, with National Security Adviser Jake Sullivan admitting last week that the U.S. lacks a "clear picture of just how much missing $83 billion of military inventory" the group has.