So, Why Do Flowers Smell?
Not all flowers smell good, to people at least, but their scents are a way to attract pollinators.
Why do flowers smell? – Henry E., Age 9, Somerville, Massachusetts
Imagine walking through a tropical forest as a sweet scent wafts through the air. A little farther down the path, the putrid stench of rotting flesh makes you catch your breath. Upon investigation, you find that both odors originate from flowers – but why do flowers smell like anything at all?
It's actually part of a strategy that helps flowering plants reproduce themselves and spread their species. Certain scents help these flowers solve a big problem.
Plants flower to produce seeds that can go on to become new plants. To make a viable seed, pollen from one part of the flower must fertilize the ovules in another part of the flower. Some plants can self-pollinate, using their own pollen to fertilize the ovule. Others require pollen from another plant of the same species – that's called cross-pollination.
So how does one plant get some other individual plant's pollen where it needs to be?
Sometimes gravity helps pollen fall into place. Sometimes wind carries it. Wind-pollinated flowers, like those of many trees and grasses, don't produce a scent.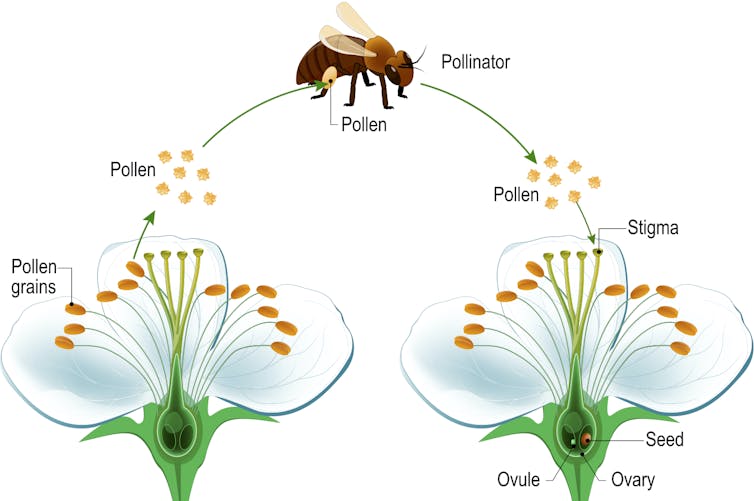 Other flowers are pollinated by birds, bats, insects or even small rodents carrying the pollen from one flower to another. In these cases, the flowers might provide a little incentive. Animal pollinators are rewarded by sweet energy- and nutrient-rich nectar or protein-packed pollen they can eat.
Flowers that need the help of insects and bats go one step further, producing a floral scent that acts as a smelly kind of welcome sign for just the right pollinator.
An orchid blooming in the tropical forest or a rose in your garden needs to attract a pollinator to bring pollen from flowers of the same species. However, there are flowers which look similar but are from other species. To differentiate itself from other flowers, each species' flowers puts out a unique scent to attract specific pollinators.
Similar to the perfumes at a department store counter, flower scents are made up from a large and diverse number of chemicals which evaporate easily and float through the air. The type of chemical, its amount and its interaction with other chemicals give the flower its unique scent. The scent of a rose may consist of as many as 400 different chemicals.
People can smell these floral scents because they easily evaporate from the flower, drifting on the air currents to attract pollinators.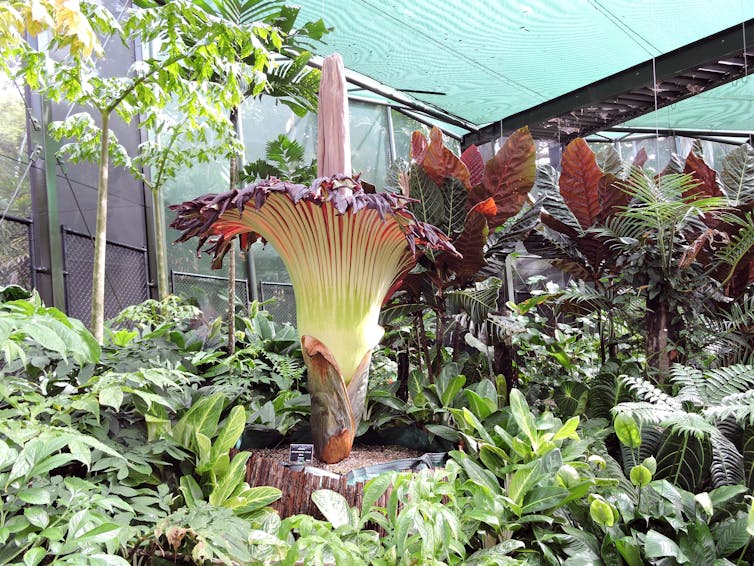 Flower fragrances may be sweet and fruity, or they can be musky, even stinky or putrid depending on the pollinator they are trying to attract. A blooming apple or cherry tree emits a sweet scent to attract bumblebees, honeybees and other bees. But stick your nose into the beautiful flowers of a pear tree – a close relative of apples and cherries – and you may recoil in disgust, as these flowers smell musky or putrid to attract flies as pollinators. Similarly, the corpse flower, native to Indonesian rainforests, emits a foul odor reminiscent of rotting flesh to attract flies and beetles to pollinate its flowers.
Moths and bats flying at night locate flowers by the scent some release after the Sun goes down. The night-blooming cereus, the saguaro cactus and the dragon fruit all have large white flowers which open at night – they seem to glow in the moonlight, making them visible to nocturnal visitors. Their strong perfume helps guide pollinators inside. While drinking the sweet nectar, the pollinator picks up pollen which it then deposits in the next flower visited.
Once pollinated, the flower stops producing a floral scent and nectar and redirects its energy to the fertilized embryo that will become the seed.
Republished from The Conversation under creative commons.
Scientists Create First-Ever Embryos With Monkey and Human Cells
For the first time, scientists have created embryos in a lab that contain the cells of both humans and monkeys.
Scientists hope that by creating chimeric embryos – embryos containing cells from two distinct species – they might be able to create organs for people who desperately need transplants.
Over 100,000 people in the United States lone are currently on a waiting list for organ transplants crucial to saving their lives, but the supply of donor organs has dropped significantly since the pandemic began unfolding.
Researchers have attempted to inject human stem cells into the embryos of pigs and sheep in recent years in hopes of growing organs for transplants, but this hasn't yielded positive results. Scientists are hoping that by turning to macaque monkeys, which share a greater genetic similarity to humans, they may have more success.
In a study published Thursday in the journal Cell, researchers in the U.S. and China injected 25 pluripotent stem cells from humans into embryos from macaque monkeys.
After one day, the researchers detected human cells beginning to grow in 132 of the embryos. They embryos ultimately survived for 19 days.
However, bioethicists have raised concerns about the potential for abusing medical regulations that currently govern the treatment of animal and human subjects, as well as the possibility that a rogue scientists might potentially spike living creatures with human cells.
"My first question is: Why?" Kirstin Matthews, a science and technology fellow at Rice University's Baker Institute, told NPR. "I think the public is going to be concerned, and I am as well, that we're just kind of pushing forward with science without having a proper conversation about what we should or should not do."
Researchers insist that the study serves purely humanitarian goals that could save countless lives in the future.
"This work is an important step that provides very compelling evidence that someday when we understand fully what the process is we could make them develop into a heart or a kidney or lungs," said University of Michigan professor Jeffrey Platt, who was not involved in the study.
In Major First, New System Lets Paralyzed Users Control Tablet Computer Wirelessly
In what could be a major breakthrough for people suffering paralysis and other permanent disabilities, the first wireless command to a computer has been demonstrated.
According to a new study published in IEEE Transactions on Biomedical Engineering, scientists at Brown University say that the new system called BrainGate can transmit brain signals at "single-neuron resolution and in full broadband fidelity."
BrainGate clinical trial participants with paralysis used a small transmitter connected to a person's brain motor cortex to manipulate the interface of a tablet computer.
Participants were able to achieve the same typing speeds and point-and-click accuracy on the BrainGate system as they could with wired systems.
"We've demonstrated that this wireless system is functionally equivalent to the wired systems that have been the gold standard," said John Simeral, an assistant professor of engineering at Brown University.
"The signals are recorded and transmitted with appropriately similar fidelity, which means we can use the same decoding algorithms we used with wired equipment," Simeral said.
Top of Form
Bottom of Form
"The only difference is that people no longer need to be physically tethered to our equipment, which opens up new possibilities in terms of how the system can be used," he added.
Neural interface technologies have attracted such high-profile figures as Elon Musk and social media titan Facebook in recent years.
"With this system, we're able to look at brain activity, at home, over long periods in a way that was nearly impossible before," said Brown University engineering professor and clinical trial leader Leigh Hochberg.
"This will help us to design decoding algorithms that provide for the seamless, intuitive, reliable restoration of communication and mobility for people with paralysis," Hochberg added.
Scientists Discover X-Rays Coming From Uranus For Very First Time
Scientists are seeing X-rays being emitted from Uranus for the very first time, according to new research.
On Wednesday, the study was published in the Journal of Geophysical Research that lays out how a comparison of two images of the planet taken by the Chandra Observatory in 2002 and 2017 show a clear detection of X-rays in the first image, while the second shows a possible flare of X-rays on the enigmatic and icy planet.
According to NASA, the reason for these X-rays is "mainly the sun."
However, "there are tantalizing hints that at least one other source of X-rays is present," the space agency noted.
"One possibility is that the rings of Uranus are producing X-rays themselves, which is the case for Saturn's rings," NASA said. "Another possibility is that at least some of the X-rays come from auroras on Uranus, a phenomenon that has previously been observed on this planet at other wavelengths."
X-rays can be provide a crucial window into the processes and characteristics of our universe. In the case of Uranus, these characteristics can include "atmospheric, surface and planetary ring composition."
And while X-ray lights given off by the sun have been previously observed by astronomers on Jupiter and Saturn, this hasn't been the case for icy giants like Uranus and Neptune.
The agency hopes that by figuring out the origin of the X-rays observed at Uranus, researchers can better grasp how mysterious objects including black holes and neutron stars emit X-rays.
Uranus is roughly four times the diameter of Earth and is the seventh planet from the sun, and is known for its distinct pair of rings around its equator and its unique side rotation.