So, Why Do Flowers Smell?
Not all flowers smell good, to people at least, but their scents are a way to attract pollinators.
Why do flowers smell? – Henry E., Age 9, Somerville, Massachusetts
Imagine walking through a tropical forest as a sweet scent wafts through the air. A little farther down the path, the putrid stench of rotting flesh makes you catch your breath. Upon investigation, you find that both odors originate from flowers – but why do flowers smell like anything at all?
It's actually part of a strategy that helps flowering plants reproduce themselves and spread their species. Certain scents help these flowers solve a big problem.
Plants flower to produce seeds that can go on to become new plants. To make a viable seed, pollen from one part of the flower must fertilize the ovules in another part of the flower. Some plants can self-pollinate, using their own pollen to fertilize the ovule. Others require pollen from another plant of the same species – that's called cross-pollination.
So how does one plant get some other individual plant's pollen where it needs to be?
Sometimes gravity helps pollen fall into place. Sometimes wind carries it. Wind-pollinated flowers, like those of many trees and grasses, don't produce a scent.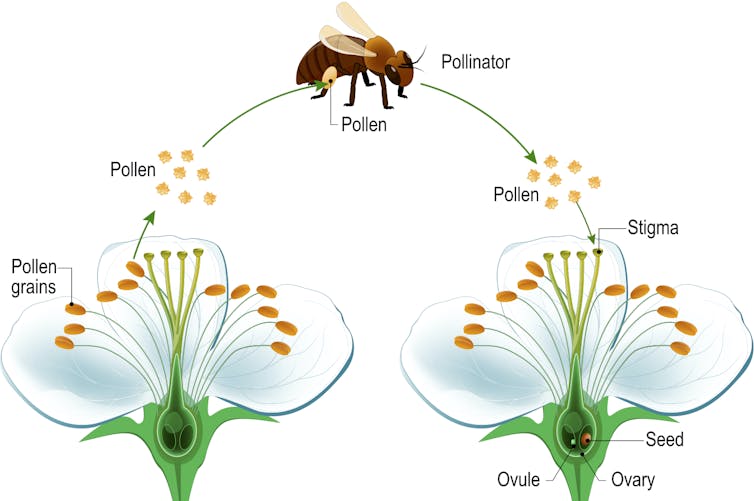 Other flowers are pollinated by birds, bats, insects or even small rodents carrying the pollen from one flower to another. In these cases, the flowers might provide a little incentive. Animal pollinators are rewarded by sweet energy- and nutrient-rich nectar or protein-packed pollen they can eat.
Flowers that need the help of insects and bats go one step further, producing a floral scent that acts as a smelly kind of welcome sign for just the right pollinator.
An orchid blooming in the tropical forest or a rose in your garden needs to attract a pollinator to bring pollen from flowers of the same species. However, there are flowers which look similar but are from other species. To differentiate itself from other flowers, each species' flowers puts out a unique scent to attract specific pollinators.
Similar to the perfumes at a department store counter, flower scents are made up from a large and diverse number of chemicals which evaporate easily and float through the air. The type of chemical, its amount and its interaction with other chemicals give the flower its unique scent. The scent of a rose may consist of as many as 400 different chemicals.
People can smell these floral scents because they easily evaporate from the flower, drifting on the air currents to attract pollinators.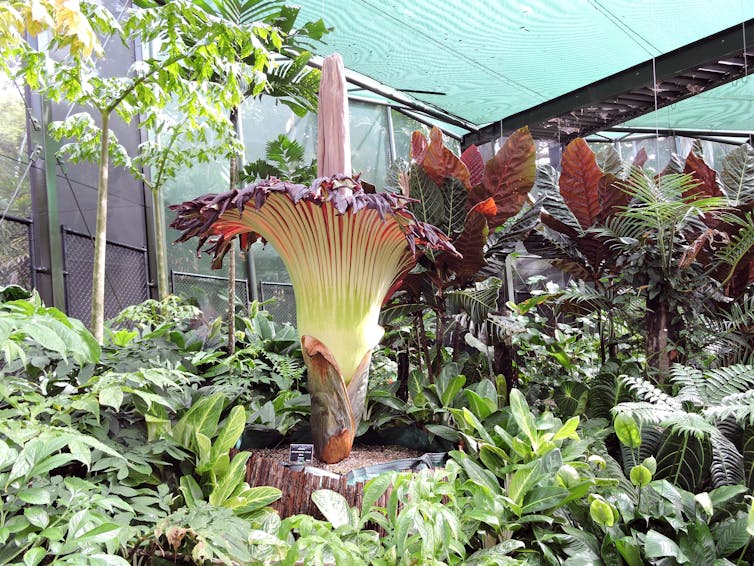 Flower fragrances may be sweet and fruity, or they can be musky, even stinky or putrid depending on the pollinator they are trying to attract. A blooming apple or cherry tree emits a sweet scent to attract bumblebees, honeybees and other bees. But stick your nose into the beautiful flowers of a pear tree – a close relative of apples and cherries – and you may recoil in disgust, as these flowers smell musky or putrid to attract flies as pollinators. Similarly, the corpse flower, native to Indonesian rainforests, emits a foul odor reminiscent of rotting flesh to attract flies and beetles to pollinate its flowers.
Moths and bats flying at night locate flowers by the scent some release after the Sun goes down. The night-blooming cereus, the saguaro cactus and the dragon fruit all have large white flowers which open at night – they seem to glow in the moonlight, making them visible to nocturnal visitors. Their strong perfume helps guide pollinators inside. While drinking the sweet nectar, the pollinator picks up pollen which it then deposits in the next flower visited.
Once pollinated, the flower stops producing a floral scent and nectar and redirects its energy to the fertilized embryo that will become the seed.
Republished from The Conversation under creative commons.
South Korean Toilet Turns Poo Into Green Energy and Pays Its Users Digital Cash
What if your morning #2 not only powered your stove to cook your eggs, but also allowed you to pay for your coffee and pastry on the way to class?
It seems like an absurd question, but one university in South Korea has invented a toilet that allows human excrement to not only be used for clean power, but also dumps a bit of digital currency into your wallet that can be exchanged for some fruit or cup noodles at the campus canteen, reports Reuters.
The BeeVi toilet – short for Bee-Vision – was designed by urban and environmental engineering professor Cho Jae-weon of the Ulsan National Institute of Science and Technology (UNIST), and is meant to not only save resources but also reward students for their feces.
The toilet is designed to first deliver your excrement into a special underground tank, reducing water use, before microorganisms break the waste down into methane, a clean source of energy that can power the numerous appliances that dorm life requires.
"If we think out of the box, feces has precious value to make energy and manure," Cho explained. "I have put this value into ecological circulation."
The toilet can transform approximately a pound of solid human waste – roughly the average amount people poop per day – into some 50 liters of methane gas, said Cho. That's about enough to generate half a kilowatt hour of electricity, enough to transport a student throughout campus for some of their school day.
Cho has even devised a special virtual currency for the BeeVi toilet called Ggool, or honey in Korean. Users of the toilet can expect to earn 10 Ggool per day, covering some of the many expenses students rack up on campus every day.
Students have given the new system glowing reviews, and don't even mind discussing their bodily functions at lunchtime – even expressing their hopes to use their fecal credits to purchase books.
Get Castrated If You Want to Age Slower and Live Longer, Scientists Say
New research suggests that if men want to delay their aging in an effective way, all they have to do is – wait for it – get castrated.
A study by an international team of scientists from New Zealand's University of Otago found that the castration of male sheep successfully delayed their aging compared to males whose genitalia was intact – and the same principle would hold for human males.
The study could give us some crucial insights into why women live longer than men.
"Both farmers and scientists have known for some time that castrated male sheep live on average much longer than their intact counterparts; however, this is the first time anyone has looked at DNA to see if it also ages slower," said the lead author of the study, Victoria Sugrue.
The study also shows how cutting-edge technology has allowed us to gain surprising insights from DNA and the rate at which it ages, including the ability to estimate the age of humans based solely on analyzing their DNA.
"We developed a way to measure biological age in a broad range of mammals — we have looked at over 200 species so far and discovered surprising commonality in which animals age," said study co-author Steve Horvath of UCLA. "But the sheep study was unique in that it specifically isolated the effects of male hormones on aging."
Using an "epigenetic clock" invented by Horvath to measure age, researchers were able to find that male and female sheep had quite different aging patterns for their DNA.
"We found that males and females have very different patterns of DNA aging in sheep; and that despite being male, the castrates [wethers] had very feminine characteristics at specific DNA sites," said research team co-leader Tim Hore.
These findings can also apply to humans.
"Interestingly, those sites most affected by castration also bind to receptors of male hormones in humans at a much greater rate than we would expect by chance," Hore said. "This provides a clear link between castration, male hormones and sex-specific differences in DNA aging."
Scientists Find Possible New Signs of Alien Life on Saturn's Icy Moon
A new study suggests that Saturn moon Enceladus, which is covered in an icy crust, could be a great place for life to exist.
New evidence collected by NASA's retired Cassini spacecraft offers tantalizing details on the chemical makeup of the water plumes erupting from Enceladus.
The heavy amount of methane – a gas associated with life on Earth – suggests that underneath the icy crust of Enceladus, there could be a huge ocean of briny water potentially teeming with life.
The new study by researchers from the University of Arizona and Paris Sciences & Lettres University also found that there was a relatively high concentration of molecules of dihydrogen and carbon dioxide.
"We wanted to know: Could Earthlike microbes that 'eat' the dihydrogen and produce methane explain the surprisingly large amount of methane detected by Cassini?" asked University of Arizona associate professor and lead author of the study Prof. Regis Ferriere.
Scientists have long speculated that conditions on Enceladus, with its subsurface ocean and sources of warmth, could be conducive to the development of living creatures.
However, one possible explanation for the chemical composition of water on Enceladus could be the existence of microbes on the Saturn moon.
"In other words, we can't discard the 'life hypothesis' as highly improbable," Ferriere noted. "To reject the life hypothesis, we need more data from future missions."
Confirmation of the "life hypothesis" will likely remain elusive for the foreseeable future.
"Searching for such microbes, known as methanogens, at Enceladus' seafloor would require extremely challenging deep-dive missions that are not in sight for several decades," Ferriere said.