10,000 Troops Deployed in South Africa As "Flood Disasters" Leave Hundreds Dead
In response to floods that claimed the lives of at least 443 people in the KwaZulu-Natal province, South African authorities have "activated" 10,000 troops to assist with emergency relief operations in the province.
In a statement, KwaZulu-Natal premier Sihle Zikalala said that six days of heavy rains, which resulted in "flood disasters," now "rank as among the worst catastrophes to befall the province of KwaZulu-Natal in a long time".  He verified on Monday that the death toll has now reached 443, and that 63 people remain unaccounted for.
"We sympathize with all those who lost their relatives and friends in the floods that attacked KwaZulu-Natal," Zikalala wrote in a Facebook post.. "As a government, we will do everything we can to help our communities that have lost relatives and friends."
Another announcement from the South African National Defence Force said that they will "activate" 10,000 soldiers to assist with relief operations in the area. Storms and floods in the southeastern coastal province have caused tens of thousands of citizens to flee their homes, devastated infrastructure, demolished houses and commercial structures, and left the area in ruins for over a week, according to officials.
"The infrastructure that has been damaged includes houses, schools, roads, bridges, buildings as well as economic and business infrastructure," local paper The Witness wrote. 
The flooding has been captured on video and shared on social media:
Some functions at the country's busiest port, Durban, seem to have been halted due to flooding.
A stunning photo of the widespread destruction at the port.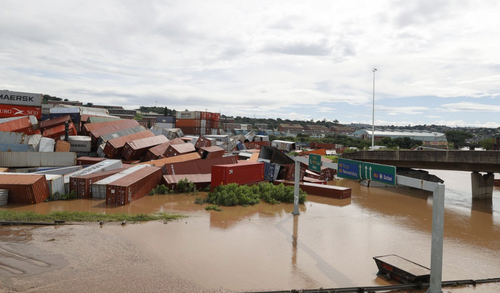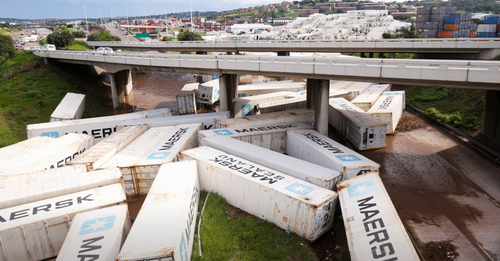 As if the floods couldn't have come at a worse moment, South Africa's central bank issued a warning last week, warning that inflation was threatening the country's continuing economic development. It remains to be seen how the weather-related devastation of a major economic-producing province would effect inflation and the overall economic recovery in the province. It's reasonable to believe that this cannot be good.
h/t Zero hedge